Afterword
February 17, 2005
Philadelphia, Pa. USA
N 39.95995° W 75.16360° Elevation 62 feet. Temp: 37° F
My editors at The Philadelphia Inquirer just got the satellite telephone bill for the time Barbara Johnston and I spent beaming our reports out of Equatorial Guinea last month. You are now reading one of the most expensive blogs ever to hit the Inquirer's little corner of the blogosphere. For the betterment of humankind, not to mention my future in this business, please do us a favor: Go to the
Inquirer's Web site
, click on some ads, buy an apron at the
Online Store
or just browse the
Wing Bowl
coverage for a while and drive up the page-views. We have to create some sort of revenue stream to make online newspapering a viable business.
In the month since we returned from accompanying the Arcadia University expedition to Africa, we have readjusted to life with proper beds, hot showers and sub-freezing weather. The accolades from colleagues continue to trickle in for our groundbreaking work in Africa, where we filed stories, photos and Web entries every day from a primeval rainforest. More than two dozen newspapers and Web sites picked up some or all of the
nine-part series
.
Yet some people were insufficiently impressed that we were able to haul a bunch of delicate electronic gear into a soaking-wet forest where few people would dare attempt such a feat and make the stuff work without fail. A few people misunderstood the intent of
The Disappearing Drill
series. The stories documented the efforts of two professors to save endangered species in Africa, including a rare monkey called the drill. The stories provided a snapshot of a worldwide trend in which species are disappearing at a rate matched only by the great prehistoric extinctions.
To me that's a pretty hefty subject. But some people thought we were just monkeying around.
A few vegans and sportsmen misinterpreted the expedition's intent as a campaign against hunting. But the expedition's leaders were pretty clear they're opposed only to the slaughter of endangered species, not to the hunting of nonthreatened species (most of the Africans who work for their project and support it are hunters and continue to hunt plentiful species to feed their families).
A suburban newspaper columnist complained that the series symbolized the decline of the Inquirer. I disagree. Some of us remember when Inquirer editor Gene Roberts dispatched a reporter to Africa to write a lengthy series about the endangered rhinoceros. So the Inquirer's attention to the biodiversity crisis is nothing new. I'd argue that the newspaper's commitment to our African journey should warm the hearts of journalists concerned about the state of our industry, rather than arouse petty jealousy.
I digress.
This was my first effort at blogging. It was a great pleasure. But reading the blog now, moving backward in time, is like watching the movie
Memento
, which moves backward and forward simultaneously -- very creative, but discombobulating. Here's my suggestion if you want to experience this blog as it was originally written: Start with the archived entries on the right side of this page. The first entry is on Christmas Day, followed by updates each day as the trip unfolds.
Alternatively, you can randomly jump around the daily entries. It's the Internet, after all. There's no rhyme or reason to it.
But don't forget: When you're done, go to the Inquirer's Web site and order one of those aprons.
Andrew Maykuth
amaykuth@phillynews.com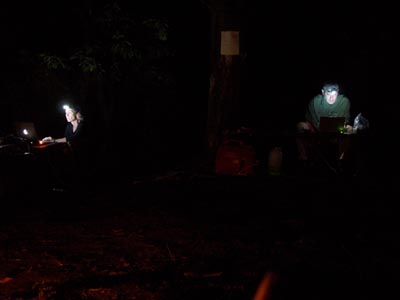 A shot of Barbara and I working under the power of flashlights
and generators in the caldera's north camp.
(Photo by Paul Jaffe, Bioko Biodiversity Protection Program)